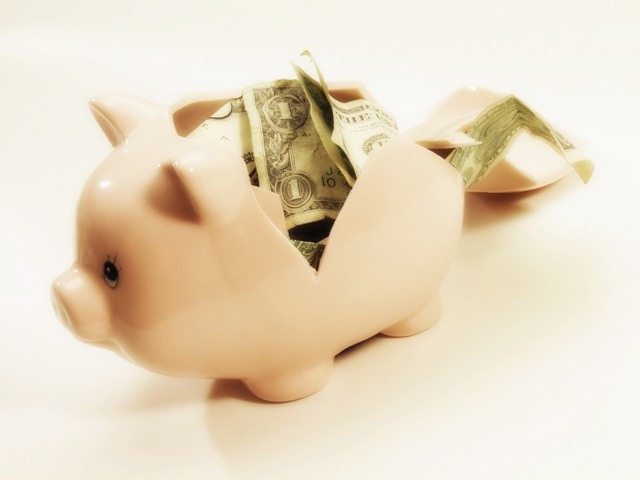 Most of us have been there, facing head on those unexpected costs that come up in the budget and ruin the weekly plan that you have set out for yourself. Taking into account these ten things that break the budget can help you to control these expenses and turn the unexpected expenses into budgeted items.

Common unexpected expenses that we can start planning for include:
Oil Changes and Vehicle Maintenance
Take into account oil changes that need to be completed every three months, or 5,000 km. Plan for these oil changes in the budget for the month to reduce the extra $50 cost being added on. Click here for ways that you can save money on oil changes.
Clothing
Most people don't allocate enough room in the budget for clothing – especially kids clothing. Having a section in the budget for clothing, or miscellaneous items can help to reduce the stress on the finances when it comes to buying clothes for special occasions, or clothes that need to be replaced at the end of the season. Remember to shop ahead of time, and use these tips while shopping to save money.
Prescriptions
Medical costs including the cost for doctor's notes, forms and prescriptions can be expensive and since you can't often determine when you are going to get sick, it might be helpful to have some money saved in the emergency expenses, or checking account for these added costs to reduce the times that this money has to come out of the monthly budget.
BirthdaysIt seems that there are birthdays every month in our family. This comes with the added cost of birthday cards, birthday gifts and expenses like dinners out. Budgeting for these events is relatively simple, as you can determine the limit for spending for each birthday and include it in the budget for the month that the birthday occurs. Simple enough, shopping ahead of time and having children make birthday cards can help to save up to $60 a month for one birthday a month!
Replacing Lost/Broken Items
Lost shoes, mittens and gear through the winter months for school aged children or simply replacing a television or other piece of technology in the home that has broken can break the budget that month and should be considered when cushioning the savings account.
Vehicle Registration
Vehicle registration isn't so bad – until you get to the registry office and realise that you have upwards of $800 worth of photo radar tickets that had been delivered to your old address, and must be paid. Good thing that you had some money put away in the savings account, right? The cost of vehicle registration should be considered in the annual budget.
Pet Expenses
Pets are expensive and will cost the owner several thousand dollars over their lifetime. We have had two dogs in the past, and have decided that pet ownership just isn't for us. The English bulldog we purchased had a heart condition, and passed away. The timing was terrible for the replacement puppy from the breeder as our first child was just born, but from the $2,000 price tag, to the costly expenses for vet and medical bills, it's easy to find unexpected costs in the budget when it comes to pet expenses. Save for these, budget, or choose pet insurance to reduce the cost of pet expenses.
Unexpected Travel
Whether it's a quick wedding away or a weekend away with family, even an unexpected trip for a funeral, it's important to realise that you often can't budget for these. At these times, having a savings account becomes an important part of being able to get to the family event unscathed.
Holidays
Easter, Christmas, Valentine's Day, Mother's Day – Whether you are spending time with family and preparing a meal at-home, eating in a restaurant or purchasing gifts and flowers these holidays are often forgotten in the budget and can wreak havoc on regular spending. Consider the holidays that month in the budget.
Days Off
Days off from school and work tend to mean spending time out of the home which can increase the costs of entertainment. Days off can include lunches out and activities that are going to cost more in the budget. Keeping track of these days and planning activities in advance can help to save.