Joovy has come up with an option to make

nap time more fun

, camping trips easy and those nights where the kids sneak into your room just a little easier. It's called the

Joovy Foocot

and it folds up, comes out and gives a good sleeping space for whenever you need it.
From the first moment the Foocot arrived it has been hauled around our house, used in the living room, napped on inside the play tent, brought along to the neighbors for an afternoon dayhome nap, slept on night after night when she sneaks into our room. Put into the closet in hopes she would sleep in her own bed, brought back out, survived the epic stomach bug, seasonal flu and us  shouting at her to stop jumping on the Foocot. 
The Joovy Foocot is a survivor – 
Foocot Features
Comes with a fitted sheet. This is genius. I mean, how hard would it be to find the just-right sheet

Easily folded and unfolded and has a secure latch to keep it flat and safe for the kids sleeping on it

It's sturdy

It fits back in the carry bag it came in without an hour-long fight

Two pockets make organizing the kid-overnight stuff simple and can keep guests' stuff safe, too! 

It's stylish, bright pink and filled with awesome (and available in other awesome colors)

Fits kids up to 48″ and 75 lbs (this is going to be a long-time product around here, I can tell you that right now)

It's comfy – You know how I know that? The kiddo wants to lay on it, sit on it, sleep on it and jump on it. 
You Might Need a Foocot If…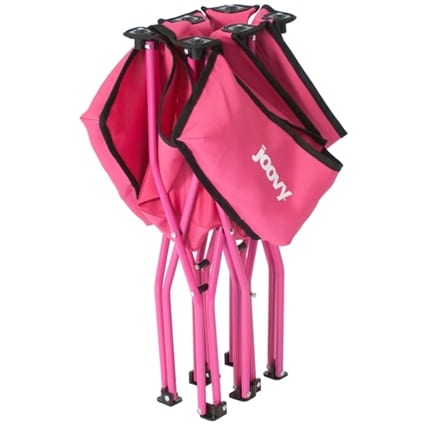 You might need a Foocot if you have a kid that sneaks into your room in the middle of night and you don't want to give up your bed. You might want to up the level of comfort using the Joovy Foocot Quilted Mattress pad if this is the case. 
You might need a Foocot if you have kids that sleepover and one inevitably gets made when the other one kicks them too many times in bed.
You might need a Foocot if you go camping, ever.
Or, my

personal favorite if you have a kid loves to cart things around your home, rearrange the space and generally make every room into a play-tent. 
Want to learn more about the Foocot? You need to check it out, here. Added bonus? It's on sale right now, too!