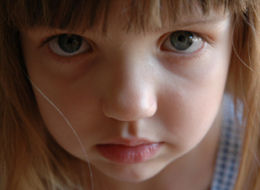 A few months ago Olivia and her Dad were out for a walk. They were walking to the park and met a couple of young girls along the way. These girls were older, nine and ten, and Olivia spent a few minutes playing with them.
Over the course of the next week, they played together a couple of times – but then, the novelty wore off, understandably so, they're quite a bit older. Since then, nearly three months later, Olivia has been asking me to call her friends and ask them to come and play with her.
Every. Single. Day. 
Tonight, she asked again. On the spot and feeling heartbroken for this little three year old that wouldn't understand why the older girls wouldn't want to play with her, I told her that the girls moved to Phoenix. It was the first thing that popped into my head as that's where her grandparents are visiting. Then, I gave her a new Barbie movie.
Okay, huge quick thinking fail. It just came out of my mouth.

My reasoning? She asks me every single day. Every single day there is disappointment when I tell her that the girls are busy, the girls are at school, the girls aren't home. Then, I offer to invite over other friends and the conversation is forgotten – until the next day.
I still haven't thought about what I am going to tell her when we see them at the Park.